---
Wollemi Natives
---
Local provenance native seedlings grown for the Southern Mount Lofty Ranges
---
---
Our Story
---
As people with a deep love and experience with the Australian bush, we knew how important it was to plant species local to our region but couldn't always find what we needed. We wanted to know where the seed was harvested from, whether the plant was endemic to our area and where the seedling was grown. After spending years growing for conservation organisations and many a day planting in the field, we decided it was time to make local plants available to locals here in Willunga, and Wollemi was born.
More than just native Australian plants, at Wollemi our focus is on true local provenance, a term describing native plant populations growing naturally in a particular area. All of our seedlings are grown from seed stock collected from parent plants within the same population around Willunga, meaning they are better adapted to the conditions of our region. Not only does this help them to thrive in our local environment, but it is an important part of protecting and enhancing the biodiversity of the Fleurieu Peninsula.
Supplying conservation organisations, revegetation projects and private landholders with native tubestock, Wollemi is helping to restore the natural wilderness and biodiversity of the Fleurieu Peninsula, rebuilding our soils, creating habitat for native flora and fauna and sequestering carbon from the atmosphere.
At Wollemi we sell native tubestock grown from seed harvested near Willunga in the Southern Mount Lofty Ranges. Our trained seed collectors gather seed from a growing network of private landholdings and all our seedlings are raised in our nursery at Willunga South.
But why 'Wollemi' I hear you ask? Curiously, when Pete and Angela arrived at their Willunga Hills block where the nursery now resides there was a 4m high Wollemi Pine in the middle of a paddock. According to Wollemi Australia "the Wollemi Pine is one of the world's oldest and rarest plants dating back to the time of the dinosaurs, with less than 100 adult trees known to exist in the wild". Given the rarity, age and general mysteriousness of this tree, it become the nursery's name and mascot. It set seed in 2023 and is growing healthier than ever!
Finally, if you're interested in growing more native species at your place, whether that's a single tree or a thousand, we'd love to hear from you. Similarly, if you are interested in being involved in seed collection or have mature local species on your property for seed collecting purposes, we'd also love to chat!
Our Team
---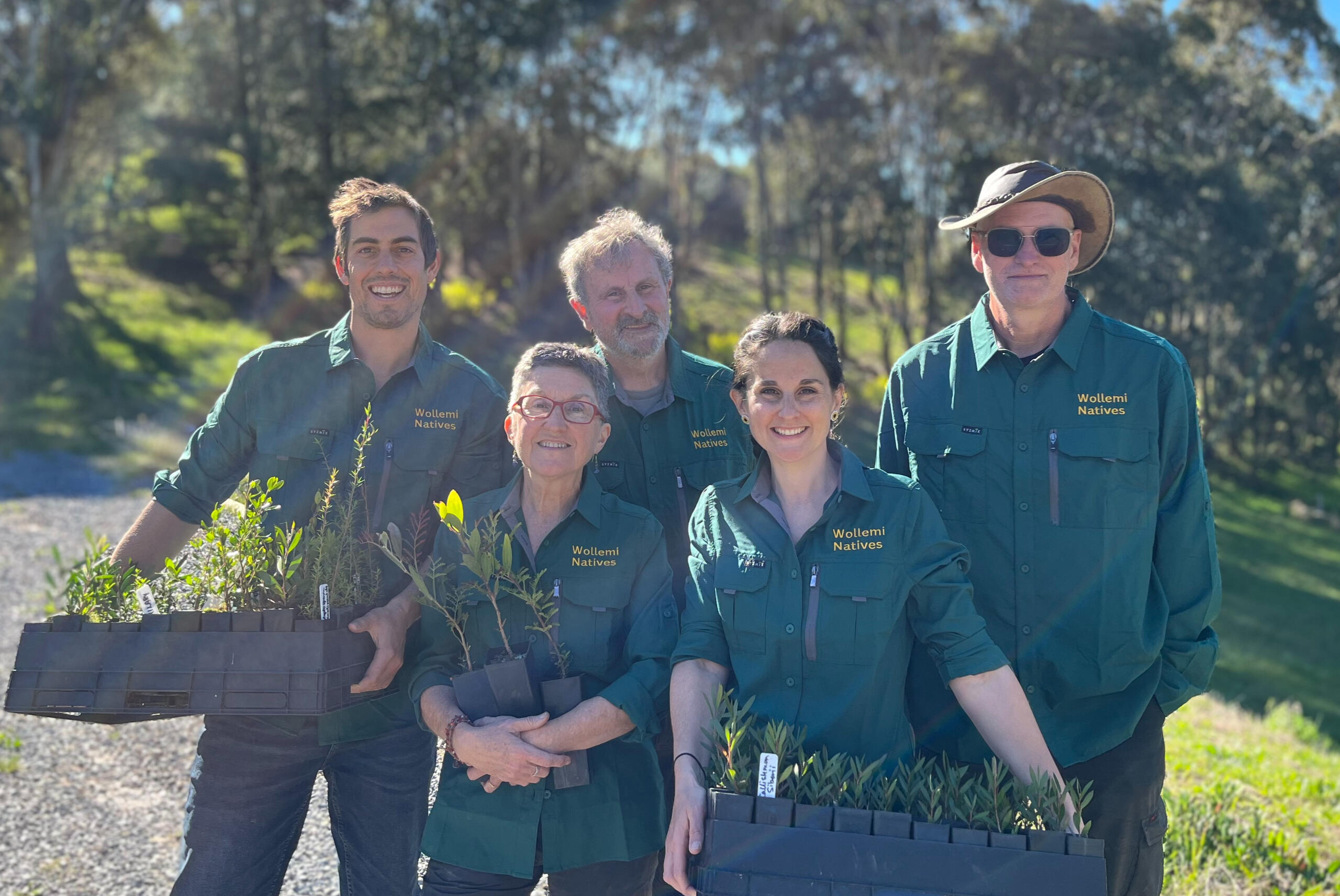 Our Supporters
ordering from us
---
We grow all our seedlings to order.Because most native seed needs to be potted up before December each year, we take orders during Spring for plants that will be ready to go in the ground the following Winter.The timeline below shows how it works.
The deadline for final orders is the 15th November each year.
However we often sell out before then, so order ASAP to avoid disappointment.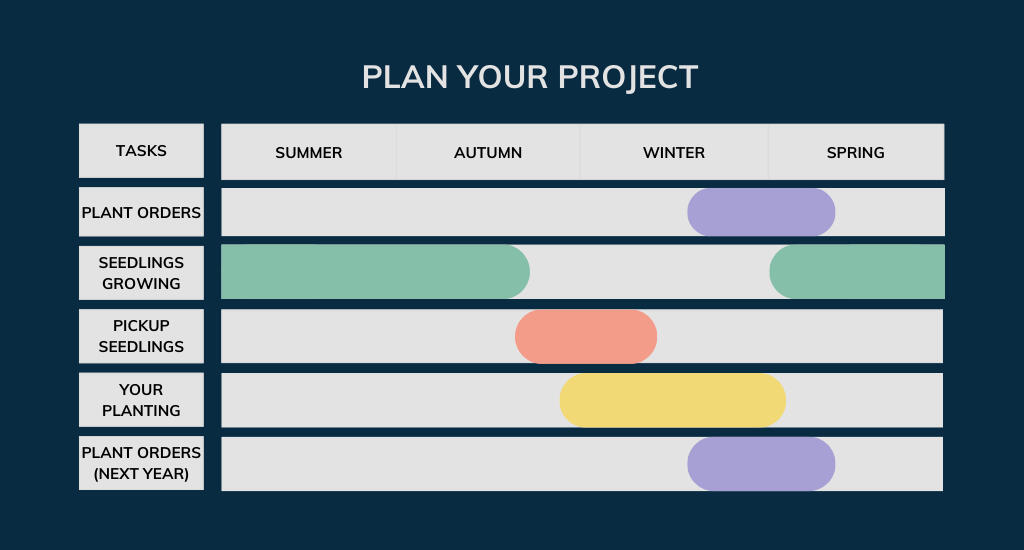 ---
Spring
---
Check out the species we have available in the "What we grow" section below. Send us your order by the 15th of November so we can get growing for you.
---
Summer
---
Sit back and relax.
---
Autumn
---
Make sure your planting site is ready to go, take care of any weeds and get tree guards if you plan to use them.
---
Winter
---
We'll let you know when your seedlings are ready to collect for planting, usually in June.If you don't got your order in by the November deadline, we can often still help! Each winter, we have limited surplus stock available for purchase so if there's something you're after, then please get in touch.
---
important info
---
We're a small nursery entirely run by volunteers. We are now in our fifth year, and have learned that we need a bit of structure to keep Wollemi Natives managable for our volunteer team. Please keep in mind the following information when ordering.Our minimum order is 1 tray, which is 50 tubes. If you need less plants than that, please team up with some friends or consider the State Flora nursery in Belair, which is set up to handle small orders.Payment can only be made via bank transfer and we do not split bills. We can provide a receipt if desired.We do not supply Government, nor do we supply contractors undertaking a planting for a Government client. This is because we we aim to reduce the cost of tubestock for landholders and community organisations, and we feel that Local and State Government's have their own budgets for restoration works.Plant orders must be received by the 15th November.Plants must be picked up by the 15th July. After this dates any remaining stock will be gifted to local conservation groups, refered to as our "overflow partners". If you are interested in being an overflow partner, please email us.Our nursery is not open to the public, as its our home as well as a plant nursery.Plant pickup is is Tuesdays and Saturdays between 2pm and 5pm from 1st June to 15th July each year. Please only come during these times and we urge you not to ask for special times, as refusal may offend. If you can't get there, ask a friend who can.Before picking up plants, you must have paid in full. We do not accept cash or payment on pickup.
Orders and Pricing
---
If you are still after tubestock for next Winter, subscribe to our mailing list to receive updates about any excess stock we have for sale.Once orders open, take a look at the list below in "What We Grow" to see what we have on offer this year.Seedlings are $1.50 each, with the exception of Xanthorrhoea semiplana which are $6, reflecting their significantly longer growing time in the nursery.Minimum order is 50 plants (1 tray) and this can be a mix of many different species if desired.If you've got any questions, give our chief grower Ange a call on 0422 582 903 or send us an email at wolleminatives@gmail.com.To place an order, download the order form here below, fill it in and email it back to us.
What WE GROW
---
---
---
The images below may help you select the plants you want. Click on each image to be taken to the SA Botanical Gardens Plant Selector Tool, which has more pictures (click the circular image) and lots more detailed information.
---
---
---
TREES & LARGE SHRUBS
---
ALL OTHER PLANTS
KEEP IN TOUCH
---
Want to be notified when orders open? Or when your plants are ready for pickup? Subscribe to our mailing list below and we'll keep you updated (max. 4 times a year).
Outside the nursery
About 5 years ago we founded Wollemi Natives to fulfill a need we saw in the local ecosystem restoration sector. That need was a supply of high quality, local provenance, affordable native tubestock.But plant supply isn't the only hurdle we see preventing landholders doing more restoration work. Time, cost, knowledge, skills, physical condition and awareness of the issue are all roadblocks to more work getting done.The Wollemi team is working on ways to reduce some of these other barriers too. We do this through:
Our educational work with schools and community groups, mostly around plant growing & selection.

Supporting local community group Biodiversity McLaren Vale with plant stock and transport logistics during the planting season

Organisation of expert workshops (e.g. native grass ID)

Small-scale funding of community projects or workshops

Through our own restoration sites, Top of The Block and Forgotten Creek, both in the Willunga Hills

By partnering with Fleurieu Environmental, a local environmental contractor and consuilting firm which was launched by one of our founders. FE supports landholders by providing knowledge, skills, advice and skilled labour where it it's needed, assisting to fill in more gaps in the restoration 'puzzle'.

By acting as a coordinator and networker in our local community for all things restoration. We regularly liaise with Government, contractors, seed suppliers, other growers, landholders, community groups and schools, and will happily provide introductions and connections where its helpful.

By taking on volunteers who would like to learn more about ecosystem restoration and growing native plants. If you are interested in volunteering at the nursery, please send us an email.

Development of a seed nursery (for harvesting bulk seed for revegetation projects)

Through the establishment of our Paddock Trees and ReVerge programs, coming soon in 2024/25...
© Wollemi Natives Incorporated. All rights reserved.